UNBREAKABLE COFFEE CUPS AND MUGS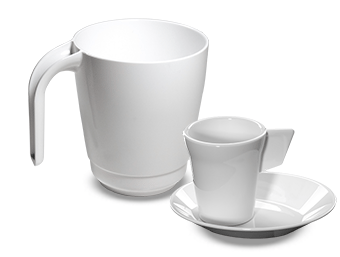 Unbreakable Coffee Cups and Mugs
With our coffee cups and mugs, you can serve your customer's hot drinks (chocolate, milk, cappuccino, etc.) in complete safety.
No broken glass, no possible injury.
All our range can be personalised with your logo or sponsor. Tell us about your project and we will guide you through all stages of your order.
The Properties of Our Unbreakable Mugs and Cups
Unbreakable: Shock resistant
Economical: More than 90% savings on your expenses
Insulation properties: Keeps liquids warm or cold better than regular glassware
Transparent: Identical to a regular glass, clear as crystal
Reusable: Long lifespan, 3 to 5 years
Recyclable: Recycling or energy recovery
Heat-resistant: To high and low temperature (-40°C to +130°C _ ISO/179/2c)
Neutral odour: Respects the liquid without modifying its taste or smell
Easy to use: Adapted for industrial dishwashers, microwaves, and freezers
Security: With unbreakable glasses, there is no possibility of injuries occurring
Food contact: Nontoxic and can be sterilized. Follows the European and FDA standards
MID-CE M

18

0248